EPC

No data available

CR

1.2%

CR for 48 hours

0.10%

Approval rate

3%

Cookie lifetime

30

days

Avg. hold time

10

days

Average payment time

11

days
Banners and Links
"Dynamic ads" tool shows ads for AliExpress products to the users based on their browsing behavior on AliExpress.com and the content of your website so that users see ads for only those products that they are interested in. Such targeting helps to increase the click-through rate of your ad and thus your reward. You can find more information about this tool in Help Center.
Program Analytics
Product Feeds
Here you can get a link to original product feed of this program. Links in product descriptions have been replaced by deeplinks. Time of last updating has also been added.
Products: &nbsp&nbsp Updated: &nbsp&nbsp Updated by advertiser:
Landing pages
This section provides the rating of landing pages of this affiliate program. You can learn and compare the average cost for click and conversion rates of different landing pages, or get links to them.
Program review
Why Admitad?
detail analytics and useful tools,
Fee-free express payment,
enormous range of affiliate programs,
trusted by 921152 publishers,
and much more.
This affiliate program is a part of the Admitad affiliate network
In order to start cooperation with the program, first you need to register in the system.
Warning: Any use of a brand name in advertising campaign is restricted and count as brand-bidding.
Please be noted, the recruiting of new publishers is temporarily paused.
Build a mighty citadel on a floating island, summon demigod allies, and save the world from destruction!
Dark Genesis - is a dynamic MMORPG inspired by different myths around the world. You are the only one capable of ending a bloody war, returning the deities of old to their former glory, and uncovering the secrets of the Dark Genesis!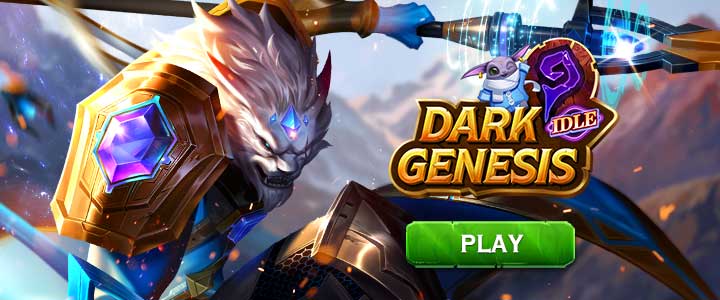 Basics
TA: 24+, male, interested in MMORPG, anime, IDLE games
GEO: USA, UK, CA, AU, NZ, Nordics, IE

Restrictions: No mobile, brand bidding, incent, adult, mislead, fraud, clickunder and popunder traffic.
limits for new publishers: 50 regs for a publisher before the feedback.
Warning: Any use of a brand name in advertising campaign is restricted and count as brand-bidding.
Last changes were recorded on 05.05.2021
Traffic Sources
| | |
| --- | --- |
| Cashback | Allowed |
| PopUp / ClickUnder | Forbidden |
| SEM | Allowed |
| Doorway pages | Forbidden |
| Email Marketing | Forbidden |
| Brand bidding | Forbidden |
| Social Media | Allowed |
| Toolbar | Allowed |
| Adult | Forbidden |
| Banner-teaser networks | Allowed |
| YouTube Channel | Allowed |
| API traffic | Forbidden |
Last changes were recorded on 26.04.2021