EPC

No data available

CR

0.01%

CR for 48 hours

0.33%

Approval rate

48.19%

Cookie lifetime

30

days

Avg. hold time

90

days

Average payment time

191

day
Banners and Links
"Dynamic ads" tool shows ads for Aliexpress products to the users based on their browsing behavior on AliExpress.com and the content of your website, so that a users see ads for only those products that they are interested in. Such targeting helps to increase the click-through rate of your ad and thus your reward. You can find more information about this tool in Help center.
Program Analytics
Product Feeds
Here you can get a link to original product feed of this program. Links in product descriptions have been replaced by deeplinks. Time of last updating has also been added.
Products: &nbsp&nbsp Updated: &nbsp&nbsp Updated by advertiser:
Landing pages
This section provides the rating of landing pages of this affiliate program. You can learn and compare the average cost for click and conversion rates of different landing pages, or get links to them.
Program Review
Why Admitad?
detail analytics and useful tools,
express payment without fee,
enormous range of affiliate programs,
trusted by 746266 publishers,
and much more.
This affiliate program is a part of the Admitad affiliate network
In order to start cooperation with the program, first you need to register in the system.
As the cloud computing arm and a business unit of Alibaba Group (NYSE: BABA), Alibaba Cloud provides a comprehensive suite of global cloud computing services to help power and grow your business. Alibaba Cloud ranks as the third largest public cloud services provider globally and is the leading cloud provider in the China market. Alibaba Cloud affiliate program offers considerable bonus for publishers who refer qualified sales and new registers to alibabacloud.com.
Alibaba Cloud Advantages:
Cloud Without Borders - Cut down latency and deploy globally on Alibaba Cloud's international network of 20 data center regions and 61 availability zones, including access to China under one single global account.
Safeguard Your Data - Alibaba Cloud is committed to the highest levels of compliance including Germany's C5 standard, PCI DSS for payments, HIPAA for healthcare, and the EU GDPR for data protection and privacy.
Record-breaking Performance - Alibaba Cloud has broken competition records at Sort Benchmark in data sorting and set new records in mitigating DDoS attacks and the processing volume of e-commerce transactions.
China's Largest Cloud Provider - Access China's most advanced cloud network, including 2800+ CDN nodes and 7 deployment regions, as well as dedicated ICP application and compliance support.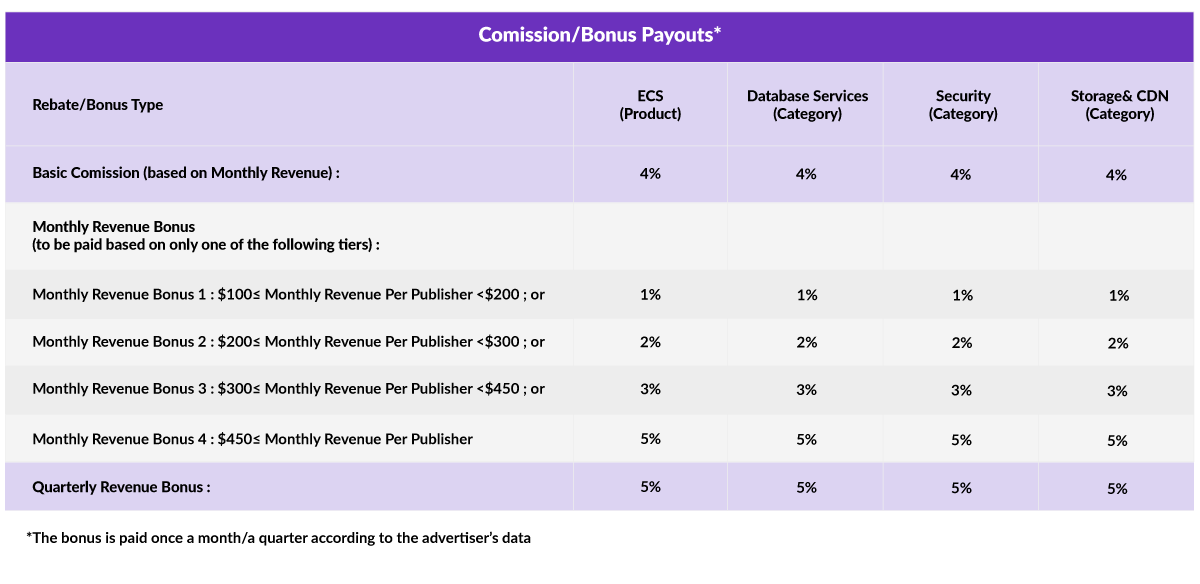 Basics
Promotions cover mainstream products
The designated promotion products include Subscription (Prepaid) and Pay As You Go (Postpaid) products of alibabacloud.com. The products covered are: Elastic Compute Service, ApsaraDB for RDS, ApsaraDB for Redis, HybridDB for PostgreSQL, ApsaraDB for MongoDB, Data Transmission Service, Anti-DDoS Basic, Anti-DDoS Pro, Web Application Firewall, Server Guard, Alibaba Cloud SSL Certificates Service, Object Storage Service, Table Store, Alibaba Cloud CDN, and Network Attached Storage (NAS). For an order to qualify as an effective order, the referral user needs to click on a promoted link, visit alibabacloud.com, and successfully complete the purchasing process on products mentioned above.
Last changes were recorded on 28.08.2019
Traffic Sources
SEM
| | |
| --- | --- |
| Is it allowed to drive immediate search engine traffic directly to the Advertiser's website without using a pre-landing page? | Forbidden |
| Is it allowed to use the advertiser's company name as an ad keyword? (# brand_name) | Needs approval |
| Is it allowed to display a contextual advertisement if the user has mistyped the Advertiser's company name? (# brand_namr) | Needs approval |
| Is it allowed to display a contextual advertisement if the user has specified the Advertiser's company name and an additional word? (# brand_name_promo) | Needs approval |
| Is it allowed to use the Advertiser's company name in the header or copy of an advertisement? | Needs approval |
| Is it allowed to use the Advertiser's company name in the link? (# myurl.ru/brand_name) | Allowed |
| Is contextual advertising allowed on Google? | Allowed |
| Is contextual advertising allowed on Yandex? | Allowed |
| Is contextual advertising allowed on Begun? | Allowed |
Social Media
| | |
| --- | --- |
| Is in-app advertising allowed on social media? | Allowed |
| Is targeted advertising allowed on social media? | Allowed |
| Is advertising allowed in public groups on social media? | Allowed |
| Is it allowed to create public groups on behalf of the Advertiser? | Needs approval |
| Is advertising on Facebook allowed? | Allowed |
| Is advertising on VK allowed? | Allowed |
| Is advertising on Odnoklassniki (ok.ru) allowed? | Allowed |
Others
| | |
| --- | --- |
| Cashback | Allowed |
| Email Marketing | Allowed |
| Brand bidding | Needs approval |
| Incentive | Forbidden |
| Toolbar | Forbidden |
| Adult | Forbidden |
| Banner-teaser networks | Allowed |
| YouTube Channel | Allowed |
| API traffic | Needs approval |
Last changes were recorded on 28.08.2019